Yes, I watched Pannaiyarum Padminiyum, again. And if opportunity strikes, I wouldn't mind watching it once more.
I realized how badly I wrote the last review. To say the least, my attempt to capture my thoughts about the movie was pathetic. But then maybe I was in a hurry and wanted to tell the world what a wonderful movie it was. The last post covered my attachment to a machine, one of the emotions that the movie evoked in me. What I covered very briefly, but should have actually written about, in the earlier post was the love story between the old couple - Pannaiyar and his wife Chellamal.
I must say of all the love stories that I have seen so far two movies have impressed me more than others. Interestingly, both these are about old people in love. When I say impressed, I think the success of a romantic movie to me is when I feel that I should have been the character in the movie. Or to put it differently I want that to happen in my life.
First is Cheeni Kum and, of course, the other is Pannaiyarum Padminiyum. In the first, two unmarried persons fall in love and get married at a rather old age while the latter is the love story of a married-for-long couple. Cheeni Kum is about urbane sophisticated people while Pannaiyarum Padminiyum is story of simpletons in a village. Love is omnipresent, shall we say.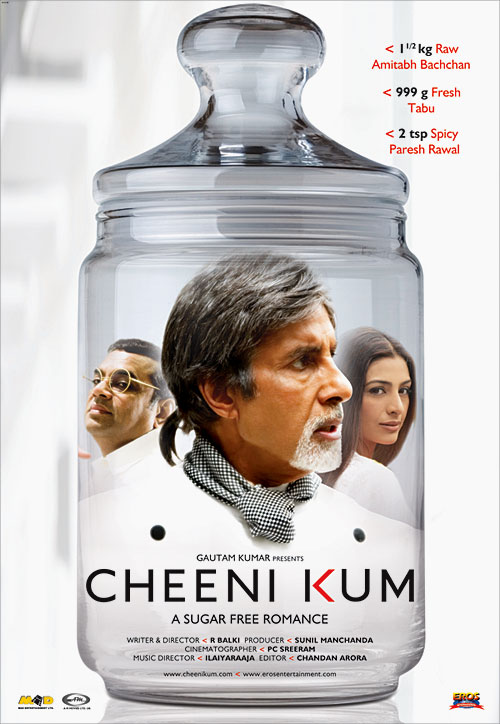 Nothing to take away from Cheeni Kum, if I have to rate the two movies, I would probably end up rating Padminiyum Pannaiyarum a bit higher than R Balki's romantic comedy. Amitabh is heart throb and Tabu beautiful in Cheeni Kum, not to mention the histrionics of Paresh Rawal when he finds that his daughter has fallen for a man who is older than him, Cheeni Kum is "filmy".
On the other hand, Pannaiyarum Padminiyum celebrates reality. The life of common man, the aam aadmi. Tulasi and JP would probably remind you of your parents or an old couple that you know of in your life. There is nothing spectacular about them. In fact, there is nothing spectacular in the movie. It is just plain simple love and affection.
The way they mock each other lovingly, the support and empathy is a treat to watch. The scenes where both pannaiyar and his wife reach out to the driver separately requesting that he somehow teaches car driving is subtle but very heartwarming.
Pannaiyarum Padminiyum starts where all other love stories usually end - the marriage. And I pray that such be life in my twilight years.