Dear Mani,
You create movies in a unique and inimitable style. The cinematography is always classy and contemporary. Never mind that people always joked that you shot in only in the dark.
In an age of melodramatic dialogues, your characters spoke only in monosylables, yet conveyed the emotion and meaning.
Of course, music in your movies was always, as a Tamilian would say, a plus.
Yesterday, I went to Ravanan. Yes, I was put off by too much of negative publicity through this damn Twitter and blogs. I wanted the dust to settle. I wanted to be fair, not influenced by the negativity.
It was all there, your usual style of cinematography, music and the dialogues. But like that model in Tata Manza ad says, something was missing. It just didn't appeal. It didn't touch my heart. I couldn't feel anything for any character. Not for Vikram, who in Sethu wrenched my heart. Not for Aishwarya. Forget her, I have never liked her as I think she is plastic and fake-y. Maybe a bit for Prithviraj, though I don't like him much. And Priyamani! You know I always thought she won the National Award for the climax rape scene in Paruthiveeran. No, despite the fact that she gets gang-raped in Ravanan, too, didn't get any sympathy.
Actually, it is not about these actors, it is how you have etched the characters in this movie. Quite shallow!
I know you are an MBA graduate. Am sure you must have heard about the power of feedback. Here are some which you may want to consider. No, I am not an expert, just a consumer of your product.
There are four Ps in Marketing, you must have read. Remember, product comes before packaging. Stylish packaging doesn't help a poor product. Like in chemistry, the elements must react with each other. But in your film, the characters stood out, aloof, like the elements on the extreme right side of periodic table of the chemical elements. This problem is faced when actors attain larger than character profile. Exception to a small extent was Prithviraj.
New Brand Ambassadors: I know you seem to have a liking for certain actors. Aishwarya, as I have already said, looks plastic. Revathy, Manisha Koirala, Shalini, Saranya, Madhubala, Shobana, Bhanupriya...were not as beautiful as the former Miss World but they looked true. Ok, Aishwarya may have a larger visibility and you may 'like' her. You have used her in three movies, now. See even MF Hussain's taste change. There are new beauties in market. Considering your choice, I think Deepika Padukone will fit your taste best. Actually, you don't need big stars to work your magic. Arvind Swamy, Raghuvaran and Madhavan were not big stars when you used them. I don't have a solid data to back-up but my intuition says avoid Junior B and his wife for sometime.
I tend to agree with the Telegraph reviewer who said that you tend to fail when you try to make a pan-India movie. As long as you made Tamil movies you had a pull effect. Now, you try to push hard and movies are failing. Roja and Mumbai are glowing examples.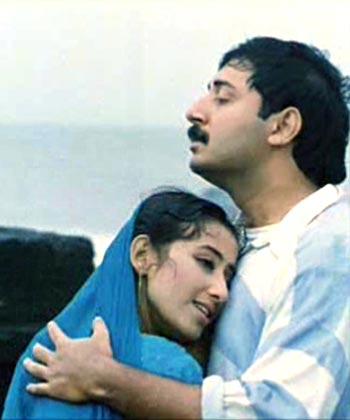 But I realize you are just a human being and cannot be expected to not fumble. See, now I know that from observing your fascination with the breasts of your leading ladies. Or at least know what men get attracted by. You are just like I am or for that matter any other man. You have in a way immortalized Manisha Koirala. She will always be remembered for her 'bumpy' run. Now, I love all those, but there was this too much unwanted panning to Aishwarya's chest. Do try to avoid those in your next movie.
At this juncture remember the strategy of consolidation and stick to your strengths.
I was reading this interview of Viswanathan Anand by Chandra Ranganathan of ET NOW.
Very nice read
. I want you to read the Question No. 3 and Vishy's response. It has profound message for you, for me and for everyone who strives to be successful.
And finally, we know you are a thinker and you resolve to deliver movies with a lot of depth. And I am very sure you wanted Ravanan also to be one such. It's ok, if your dream didn't fructify into a concrete reality. You still are the most talented Director in the country and no one can deny that. I have nothing much more to say.
Wishing you very the best.
Love,
Ganesh, the consumer and a loyalist